8 Red Flags to Look For When Buying a Home!
Posted by Alex Cowie on Tuesday, February 21, 2023 at 1:10:37 PM
By Alex Cowie / February 21, 2023
Comment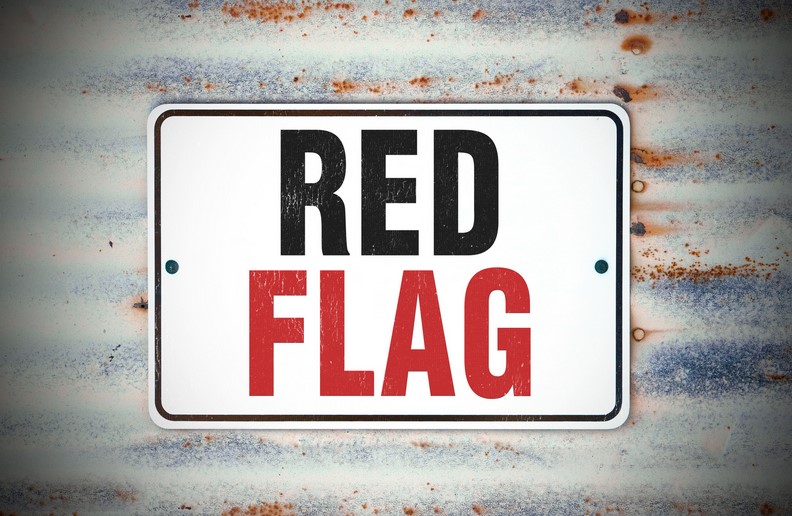 Buying a house is a big decision! It's a huge financial investment but it's also an emotional investment. When we're out looking at houses, we're actually searching for our future home – the place where we'll live, raise children, celebrate milestones, and make memories with our friends and family. It's easy to fall in love with a house that seems like a perfect fit, but that can put you at risk of ignoring potential problems and making a bad decision.
Buying a house is a business transaction and it's important to leave the rose-colored glasses at the door and let your head take over for a while. You want to be sure you've made a sound and informed decision before you sign on the dotted line. The phrase "buyer beware" definitely applies here, because once the deal closes, there's no going back!
So how can you be sure you're buying the right home?
Adding the condition of a home inspection to an offer is one of the most important things you can do to be sure the house you're buying is in good condition. But there are some simple things you can look for when you're walking through a house to help you spot potential disasters before you even make an offer. Keep reading to find out the top 8 red flags you should look for when buying a house!
Red Flag #1: Signs of Water Damage
Finding signs of water damage in a house is never a good thing! Things like water stains and musty odors don't just show up without a reason. They're indicators of a problem with the potential for serious financial consequences and because mold often goes hand-in-hand with water damage, one that could also seriously impact your health. And when the house isn't yours, you have no idea how, why, or when the damage occurred, let alone if the problem has been fixed.
That's why water damage earns the top spot on our list of red flags to watch for when you're buying a home!
The good news is that water damage has a hard time going unnoticed - it eventually lets you know it's there. These are some telltale signs you can look for:
yellow or brown water stains on the ceilings and walls
musty odors
leaks from exposed pipes, or rust and stains near those pipes
black mold around windows or under sinks or drawers.
warped or spongy drywall and window trim
freshly patched and/or painted walls and ceilings
standing water outside the house
While you're at it, take a few minutes to check the faucets, toilets, showers, and bathtubs. If any of them aren't working, there could be water pressure or plumbing problems.
Red Flag #2: Signs of Structural Problems
A house is only as good as the foundation it stands on and getting it onto solid footing can be time-consuming and potentially very expensive.
It's important to look for signs of structural problems to help you from buying a money pit. They can be easy to miss and it often takes a home inspection to catch them. Before you invest time and money to call in the professionals, here are a few things you can watch for:
doors or windows that won't close properly
cracks in the window frames
uneven or sloping floors
signs of repairs to the foundation, even simple ones like paint or caulking over cracks
Red Flag #3: Signs of Electrical Issues
Electrical issues are one of the most common things that are found during a home inspection, but they can easily go undetected when you're viewing a house.
Turn the lights on and off while you walk through the house - watch for flickering or burned-out lights and pay attention to switches that don't seem to do anything. These can all be signs of bigger electrical problems which can be expensive to fix and, more importantly, pose a safety hazard for you and your family.
Red Flag #4: Poorly Done DIY Projects and Missing Building Permits
Need to fix something in your house? You can probably find a hundred videos on the internet to teach you how to with just a few easy steps. But there's something to be said for calling in the professionals, especially for repairs and renovations involving electrical, plumbing, or major carpentry. It ensures the work meets current building codes and a standard of quality and prevents having to deal with larger issues down the road, so look at any work that's been done on the house and pay attention to whether it was done by a professional or an amateur.
For larger projects, like additions or a finished basement, have your realtor ask to see the building permits – the seller is responsible for ensuring they're in place for all improvements and additions. If the work was done without a permit, a home inspection becomes more important than ever to make sure there are no major issues.
If you're thinking of buying a house that's missing the necessary permits, it's important to know that you'll be responsible for providing them if you want to sell the house in the future, even if you didn't own the house when the work was done. That could become an obstacle to a quick and easy sale, especially if the market is slow.
Red Flag #5: Lack of Regular Maintenance
A house needs constant attention and regular maintenance to stay in peak condition and to prevent small things from becoming major problems. If a house doesn't look like it's been cared for, it can indicate that larger issues are waiting down the road - if an owner hasn't bothered to take care of the small things, they likely haven't worried about the bigger things either. Look out for things like:
burned-out lightbulbs
leaky faucets
damaged caulking around the doors and windows
furnaces and water heaters without a current inspection sticker
Red Flag #6: Strong Scents in the House
If you can't escape the smell of fresh pine or pumpkin spice or it seems the owners are obsessed with plug-in air fresheners, you may be witnessing a cover-up!
We're not talking about the welcoming aroma of cookies baking. That's one of the oldest tricks to make a house seem welcoming and realtors often recommend doing it.
We're talking about an artificial smell that is everywhere or might be particularly strong in just one room. The owners may just be using it to hide the odor of pets or smoking, but they could also be covering up the smell of things like rotting wood or mold and mildew, which are causes for concern and should be investigated further.
Look for evidence of other red flags, especially water damage, and ask your realtor to arrange a showing at a different time - you may get lucky and be able to view the house on a day the owner isn't as prepared.
Red Flag #7: Fresh Paint in Specific Areas
It's common to paint a house before putting it on the market and a realtor may even recommend it. Adding a new coat of paint is an inexpensive and easy way to freshen up a house and help it show well.
But sometimes fresh paint will only be applied in specific areas, like a single wall or just an isolated section of a wall. It's possible that the owners have just cleaned up a wall that doubled as a goalie net for their little hockey players, but it's also possible they're covering up some sort of damage, so be sure your realtor adds these areas to their list of questions.
Red Flag #8: Things That Seem Out of Place
Unless you're planning to buy a house with all its contents, you aren't likely to notice the furniture or what's on the wall but pay attention if things seem out of place - they might be doing double duty as camouflage for evidence of damage to the floors or walls.
Wall hangings are usually strategically centered around furniture or features. Getting them in the right spot is often a major production requiring measuring tapes, levels, and stud finders - it's rarely random or haphazard. If a painting looks out of place, try to sneak a peek behind it or have your realtor add it to their list of questions!
Furniture and planters are also things that are usually placed intentionally, both inside and outside. If they're in odd places, they may be covering up floor or ground damage.
What Can You Do to Protect Yourself?
There are few guarantees in life, and that includes when you buy a home. Problems can happen and unfortunately, the burden to fix them will fall on you, even if they existed when you bought the house.
There are some instances where a buyer can sue a seller for failing to disclose any material latent defects they're aware of, but it isn't easy to prove they actually knew about the problem. Additionally, lawsuits are expensive and can take years to resolve, and in the meantime, you'll still have to deal with the problem. It's far easier to just avoid buying the wrong house in the first place, so put in the time to really get to know the house by doing the following:
Get a home inspection or even call in a specialist to perform an assessment about the extent of a problem.
Have your realtor ask as many questions as possible, preferably in writing, so you have a record of both the questions and the answers.
Review the real property report for any changes made to the property and ask for any related building permits
If you want certain things repaired by the seller as part of your offer, have your realtor make that a term (not a condition) in your offer that states what needs to be fixed, how it needs to be fixed, and that it needs to be fixed by a professional.
The Bottom Line
Buying a house is a huge financial and emotional investment and you want to feel confident you're making the right decision. But there's more to finding your dream home than just liking how it looks – you also want a house that stands the test of time and, most importantly, keeps your family safe! Do your homework, ask as many questions as possible, and work with an experienced realtor, like one of the team at Alex Cowie Real Estate. We've seen a lot of houses and we know how to tell the great ones from the not-so-great ones, so if you're thinking of buying a house, give us a call and let us help!