Adding a Secondary Suite in Calgary: What You Need to Know
Posted by Alex Cowie on Thursday, May 11, 2023 at 8:47:49 AM
By Alex Cowie / May 11, 2023
Comment
If you're a homeowner in Calgary and thinking of building a secondary suite or legalizing an old one to rent, there's a lot to prepare. It's a great way to increase the value of your home as well as support paying off your Mortgage quicker!
In May 2021, the City of Calgary made significant changes to its Land Use Bylaw that made it easier for homeowners to build secondary suites on their properties. They reduced the minimum lot size and minimum width requirements, which meant more homeowners can now build a suite on their property.
In the past, homeowners who wanted to build a secondary suite had to go through a discretionary review process, which could be time-consuming and expensive. It has since been eliminated so approval is easier.
Also previously secondary suites had to be located at least 1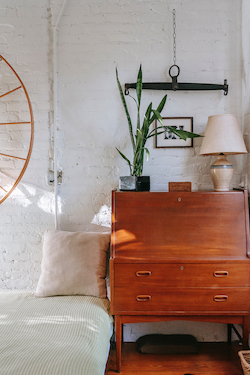 ,000 feet away from each other. The city removed this requirement, which means that more secondary suites can now be built in certain areas. They also reduced the number of parking spots required for homes with a secondary suite. This means that homeowners may not have to provide as much parking.
Most residential areas of Calgary can build secondary suites. Yet, some areas may have specific land use designations that do not allow for the development of these suites, such as areas designated for industrial or commercial uses.

It's important for homeowners to consult with the Planning and Development department to determine whether their property is located in an area where building is permitted, and what specific requirements and restrictions apply.
The Difference between Legalizing an Existing Suite versus Adding a New Suite
If the suite already has a bathroom, kitchen and living areas with a separate entrance, while also being built prior to March 12, 2018; then it is considered an existing suite.
All suites must have:
Bedrooms with proper egress windows
A separate bathroom
Separate cooking facilities
An entrance that is accessible from outside without passing through the main dwelling unit.
A shared stairwell is acceptable, but each unit must have a private entrance.
— If any of this is missing then the suite will be considered new.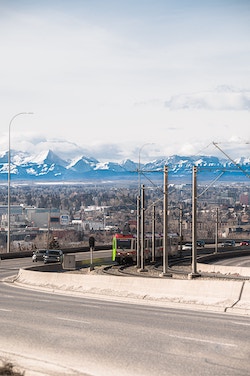 Both suites will require to meet building code and safety standards, so it's safe for occupants.
Both must also meet health standards, which includes proper ventilation, heating, and plumbing. An old illegal suite may not have these in place and so could have issues such as mold, moisture, and poor air quality. This can also leave room for legal issues of non-compliance in old suites that don't meet standards. If an illegal suite is rented and someone complains to the city, they are required to investigate.
Cliff De Jong, Manager of Building Safety Services mentions, "There are many reasons to consider legalizing your suite. Going through the bylaw and code review ensures your suite meets the requirements for the Land Use Approval and that it is safe to live in. Legalizing your suite protects your investment from enforcement action and possible impacts to insurance coverage."

There are 8,846 registered secondary suites — but the city says there are many more illegal ones. The public Suite Registry (https://secondarysuites.calgary.ca/ ) created in June 2018, helps people determine where there is inspected and approved secondary suites. You can also contact the Planning & Development center to check for you.
You must pick either a Secondary Suite in the home OR a Backyard Suite
According to Calgary's Land Use Bylaw, you cannot have a secondary suite in the home and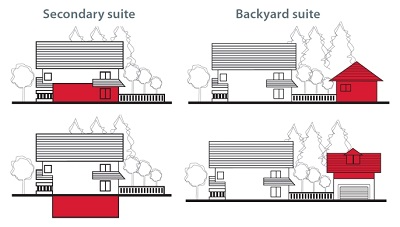 a backyard suite on the same parcel. Both are considered separate dwelling units, and only one dwelling unit is permitted on a single parcel of land in most residential areas of the city.
Building a secondary suite within the existing home is generally less expensive than building a separate backyard suite. This is because the structure, such as walls and foundation, is already in place, and there is no need to build a new separate structure. This can make it a more affordable option for homeowners who want to add rental income to their property.
TIP — PLAN AHEAD: Development Permits may be needed and can take up to 10-12 weeks to acquire. Also remember, documents have to be signed by the owner on TITLE for legalization.
There are two Inspections required for Secondary Suites from Calgary.ca:
1. Framing (rough-in) inspection requirements:
Install and complete any structural changes.
Install and complete all the wall and ceiling framing.
Install proposed windows and exterior doors.
Install and complete any HVAC changes.
Rough in, install and complete all plumbing and electrical components that are required under associated permits.
Have requested documentation on site.
Do not install insulation, vapour barrier or drywall over any work that requires inspection prior to concealing.

2. Final inspection requirement:
The construction should be completed, and the suite should be ready for occupancy.
"Suite owners must provide all bedrooms with a window exit, interconnected smoke and carbon monoxide alarms, a protected exit route from the basement to outside, drywall barriers between suites and drywall barriers in the mechanical room to meet the safety code requirements," said a release by the city.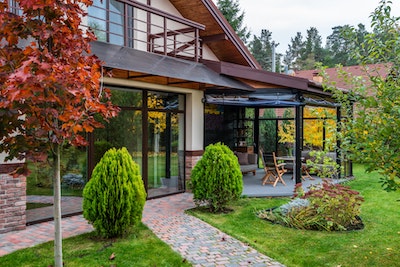 Depending on what you are starting with can make the difference for how much a project like this will cost you. GOOD NEWS though!
The City has extended their Secondary Suites Amnesty program until December 31, 2023 to give owners the chance to legalize their suites (built before March 12, 2018) at a reduced cost and with the minimum life safety requirements.
According to de Jong, the amnesty program can save Calgarians about $20,000 in construction costs. It also cuts fees for development permits and secondary suite registration by up to $700.
As of January 2024 you will also be asked to renew your suite registry every 5 years.
For latest news & permit checklist visit —
https://www.calgary.ca/development/home-building/new-secondary-suite.html